LEN OSOBNÝ ODBER NA ZP!
The AR-Magazine fed Bolt-Action Rifle.

The Mossberg® Predator Rifle better known as the Mossberg MVP® started its life as a hunting rifle and proved itself time and again in the field. Accurate, dependable and always ready for more, the MVP, which accepts commonly available AR-style magazines, became an instant hit with a wide audience of hunters and shooting enthusiasts alike.
Today, the hugely popular platform offers a gun for all seasons and all shooting disciplines.
Coupling the capacity and flexibility of America's most popular magazines with the accuracy and confidence that only a bolt-action rifle can deliver the MVP has become a near-perfect choice for every day at home, on the range or in the field.
THE MVP LC COMBINES AN ALUMINUM TARGET CHASSIS WITH MAGPUL GRIP AND A MILSPEC ADJUSTABLE STOCK.
FEATURES: The patented MVP bolt design compatible with standard AR magazines (AR15, LR308/SR25); features the MDT LSS light chassis aluminum stock; Milspec Magpul CTR Adjustable LOP Stock with A-frame profile to reduce snagging for height adjustment. Offered with a 16.25" (5.56mm NATO), 18.5" (7.62mm NATO), or 20″ (6.5 Creedmoor) threaded barrel with protective thread cap included. Patented LBA adjustable trigger system, an oversized bolt handle, and Picatinny rail.
SPECIFICATIONS:
Caliber: 6,5 Creedmoor
Capacity: 10+1
Barrel Type: Med. Bull, Fluted, Threaded
Barrel Length: 20"
Sight/Base: Picatinny Rail
Twist: 1:8
LOP Type: Adjustable
LOP: 11.25" - 14.5"
Barrel Finish: Matte Blued
Stock Finish: Tan Aluminum Chassis with Black Magpul Accessories
Weight: 7.75
Length: 37.75"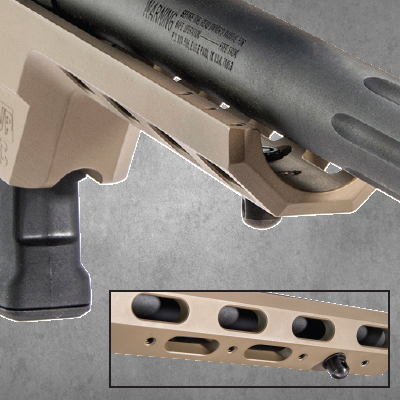 Medium bull barrels are free-floated for superior accuracy. Multiple mounting holes support swivel/rail accessory options.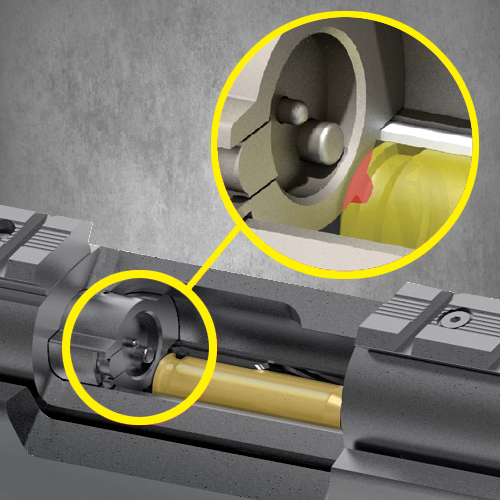 MVP 7.62mm NATO bolt designs accept/feed from both standard AR-10 style (LR308/SR25) and M1A/M14 style magazines. (Patented MVP 7.62 Dual Push bolt design shown).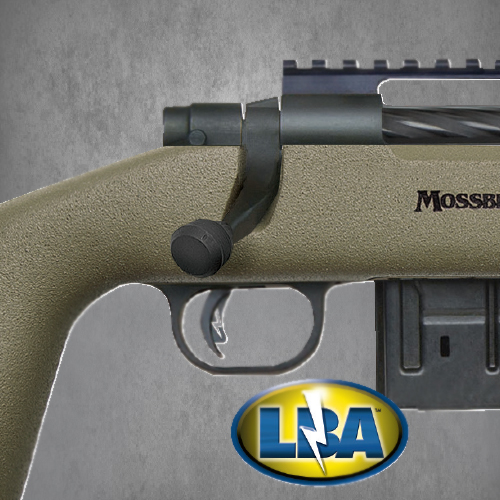 Patented Lightning Bolt Action LBA Adjustable Trigger is user-adjustable from 3 to 7 pounds on MVP models.
Tags: 27786