SUPPORT YOUR BUILD WITH THE STRONGEST PART OF YOUR AR15.
The Lug-Lok™ Upper Vise block utilizes the strength of barrel lugs to safely secure AR15 upper receivers while you work, rendering clamp-style blocks obsolete. The non-marring, aircraft-grade aluminum block slides through the upper receiver and into the star chamber of your barrel. This takes the pressure from torquing away from weak, damage prone parts and puts it squarely on the steel lugs. Adjustable Vise Pins hold the block at the optimal working angle and the Lock Knob ensures the upper receiver stays exactly where you want it. Get smart about the way you work on your firearm with the Lug-Lok™ Upper Vise Block
PRODUCT OVERVIEW
Fits .223/5.56 AR15s
Vise Pin Retaining Holes
Lock Knob Retaining Holes
7075-T6 Aircraft Grade Aluminum
Star Chamber Locking Lugs
Upper Receiver Lock Knob
Alignment Flange
2 Stainless Steel Vise Pins
PRECISION MILLED LUGS SOLIDLY FIT INTO THE STAR CHAMBER.
When you work on your upper, grab it where it is strongest – in the star chamber. Your upper is too important to risk crushing and deforming it between the jaws of your vise.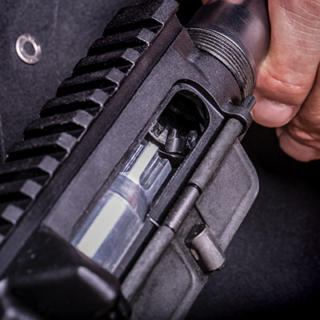 SECURE THE ROD AT ANY ANGLE IN YOUR VISE WITH THE VISE PINS.
You can fit the rod into your vise at almost any angle and then lock it into position with the vise pins. The vise pins then grab a hold of your vise to prevent the rod from shifting while you work.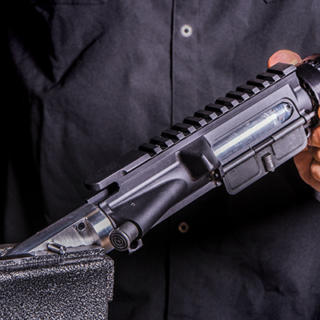 KEEP YOUR UPPER FROM SLIDING AROUND WHILE WORKING.
Position the rod at any angle and then put your upper on with any rotation you wish. Then, simply lock it into that position with the lock knob and, no matter the angle, your upper will not slide around while you work.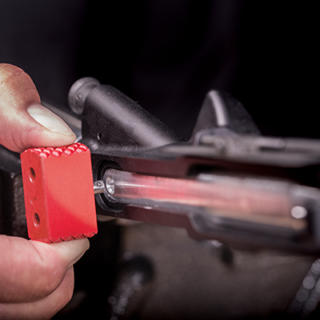 TORQUE BARREL NUTS AND MUZZLE BRAKES WITHOUT DAMAGING YOUR UPPER RECEIVER.
With the Lug-Lok™ Vise Block you are going to be able to properly torque your components or break loose stubborn rusted on components without twisting and damaging your upper.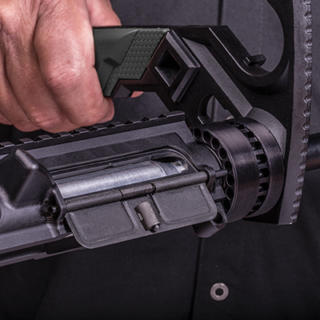 Real Avid Lug-Lok Upper Vise Block
Brand: Real Avid
Product Code: AVAR15LLVB
Availability: In Stock
Related Products
Tags: AVAR15LLVB