MASTER THE ART OF METICULOUS CLEANING
Whether you're packing a 1911, striker-fire, or revolver, this is the right cleaning kit for you. Its virtually indestructible polycarbonate case with patent pending kickstand design flips open to put every tool you'll need to clean your handguns at your fingertips. There's an ergonomic handle for all the brushes and jags. And tools are clearly labeled and snap securely into place – unlike the chaos of other kits. As Mama always says, "Keep your pistol clean."
PRODUCT OVERVIEW:
Multi-function handle rotates, taps pins, and also works as a detailing handle
High-performance tool case organizes, displays, and protects cleaning set
Engineering-grade resin case is impact resistant
Kickstand feature puts tools at your fingertips
Two brass rods combine with rotating handle to form a 12.5" rod
.45 cal. Brush and jag
.40 cal. Brush and jag
.357 cal./.38 cal./9mm brush and jag
Large nylon slotted tip
Small nylon slotted tip
25 cleaning patches

DURABLE CASE PROTECTS, ORGANIZES AND DISPLAYS:
The virtually indestructible polycarbonate cover opens into a unique kickstand keeping all components visible and at your fingertips. With separate compartments, everything is conveniently organized and accessible. The kit is spill proof and comes with mounting holes for out of the way storage.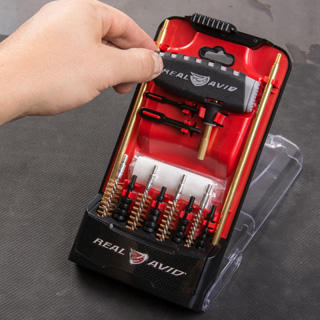 2 HIGH QUALITY BORE-SAVING BRASS RODS
2 high quality brass rods thread together to form a 12.5" rod. Brass rods offer superior strength and safety for your gun when cleaning the bore.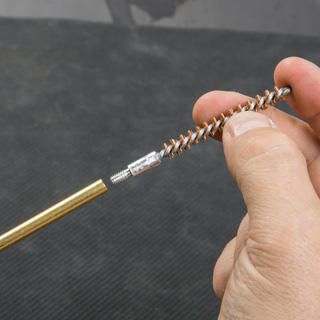 EXCLUSIVE OFF-SET HANDLE ROTATES, DETAILS, TAPS
The exclusive ergonomic handle is offset, making it more comfortable and controllable in your hand. The over molded rubberized grip houses two rod attachment points – one swivels for cleaning rifled barrels and one is fixed for detailing. Plus there's a coated tap hammer for punching stubborn pins.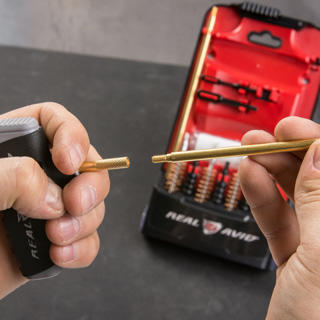 ALL THE COMPONENTS YOU NEED TO CLEAN YOUR HANDGUN
Components feature 8-32 threads for quick, secure attachment.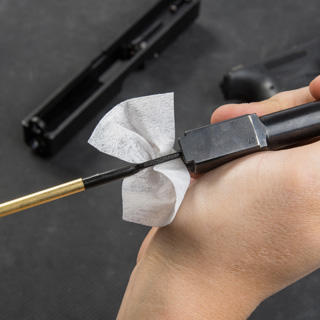 Real Avid Gun Boss Pro-Handgun Kit
Brand: Real Avid
Product Code: AVGBPRO-P
Availability: Inform yourself via email
Related Products
Tags: AVGBPRO-P